On December 1st G started an Advent Treasure Hunt, which I customized to our style from
this site
. It's been a lot of fun- a few moments of frivolity amongst the frenzy! (I also enjoyed reading
another interesting blog about the Advent season
)
I have been stressed by packing and the disarray my house is in as we prepare to move (still don't know where!) and my 2 little bits of control and organization during the day have become this Advent activity and my current obsession with setting up the
Virtual Moms Club
.
I keep stealing just a few moments when a box is packed or a chore is done to pop online and do something else virtual. I realized that it is partially because I can organize, sort, rearrange, express myself and decorate to my hearts content and there is no mess! No clutter accumulates when you are playing with little widgets, bits of code and themed templates. Everything has it's nice little bordered box or mini module. Even music and family photos easily integrate into my virtual world. Moving is easy in cyberspace, click here... drag there... an voila it's gorgeous and simple to search for anything you need.
Here's a few photos from the past few days... (oh and you MUST try today's recipe, sent to my by Mel-
BBQ cups
!)
The cover of Advent Treasure Hunt folder, where we keep the "scrolls" she finds each day (many are printouts from the above site).
below is the calendar countdown; we paste a black & white symbol of the days activity to mark our progress. Day One was the story of the Angel Gabriel visiting Mary (I also presented her the
Christmas Treasury
, a book we purchased a couple years ago, but never got to in the past couple of Christmases. This year we plan on reading a story or poem & singing a song from it nightly. It's really getting us in the Christmas spirit- who needs decorations?)
Last night she got the clue "Where Joy will close her eyes, and we will sing her lullabies." She went to Joy's crib and found her handbell set in it's *new* bag, complete with a custom cut felt for silencing the bells as she set them down and the music pages securely tucked in- it's an old picnic bag that I found while packing- you can sort of see it in the background.
Shawn converted the sheet music (which he downloaded from the internet) to a similar style of the colored dot music pages that came with the handbells. The song for the day (the Treasure Hunt daily printout) was
Joy to the World
. We had fun trying to sing it together while she played the handbells!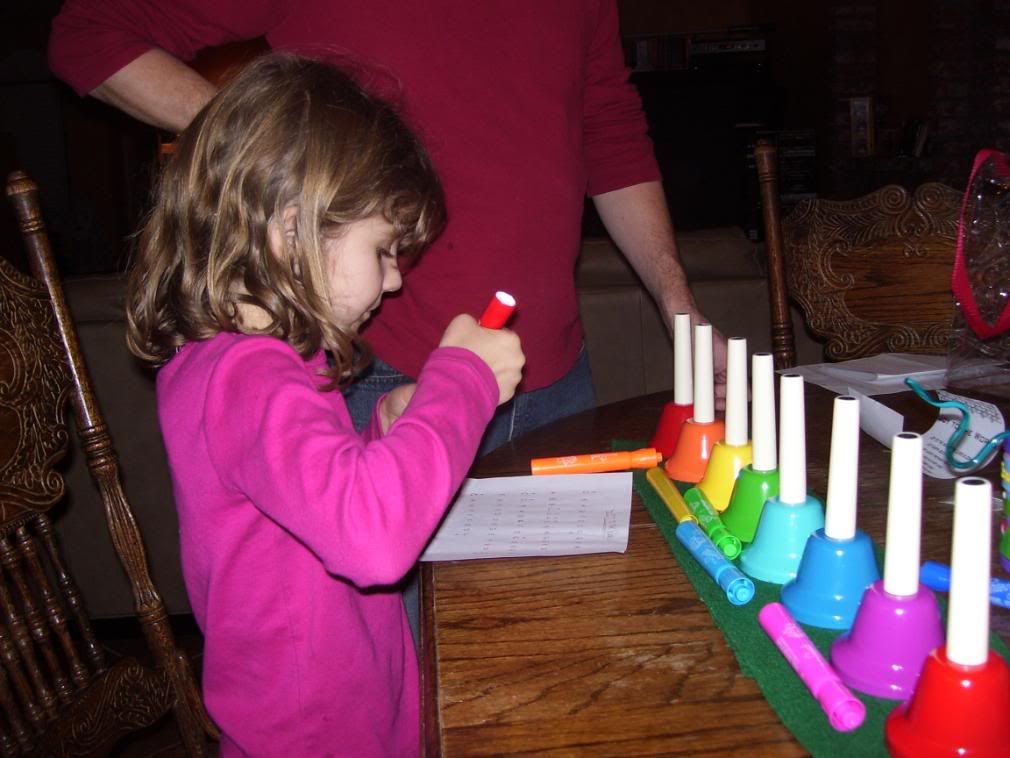 Finally, I just liked these - they represent a typical day in our world- Grace wearing only my moms sweater building a lego bridge to "candy world" under the arch of "fantasy fort" ...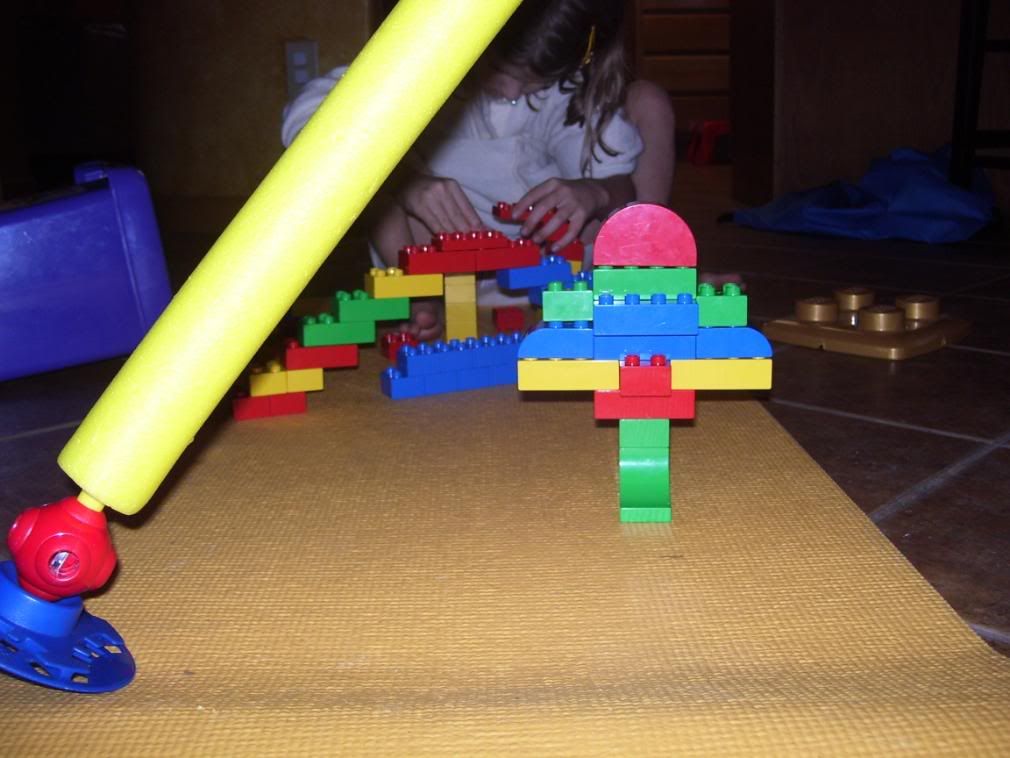 ...and her faithful, loyal and
tolerant
friend, Prince Tiger.